GIANTS 13 - CUBS 0
The San Francisco Giants took over first place for what seems like the one hundredth time in the last two weeks.
They did it in their usual Dr, Jekyll and Mr. Hyde fashion. After scoring 1 run over the last 2 games, the Giants offense erupted for a season high 13 runs. They broke through with 9 runs in the second inning for the first tie since 2008. They also pounded out 19 hits, also a season high.
Juan Uribe had a standout
game
inning. In the second inning he hit two homeruns, including a grand slam, and drove in six runs. All in the second inning! For some historical perspective on Uribe's inning
click here
. Buster Posey contributed a homerun and Cody Ross hit his first homerun as a Giant to help power the attack.
But the Giants could have scored one run and won the game.
The luxury of having a rookie number 5 starter come in and throw 7 shutout innings at a red-hot team during a pennant race is something that can not be understated. It's something that is almost unheard of.
But that's exactly what Madison Bumgarner did last night. He didn't just shut the Cubs down, he dominated them, striking out seven Cubbies over his 7 innings of work. He only gave up one walk while scattering 7 hits over those 7 innings of work.
The Giants rotation has assumed their position as the best rotation in baseball. They lead
all of baseball in team ERA with a 3.39
mark. They lead in strikeouts, BA against, K/9, and H/9. Quite simply, the 2010 Giants are all about pitching.
Not to shabby for a team that started the season with Todd Wellemeyer in the starting rotation.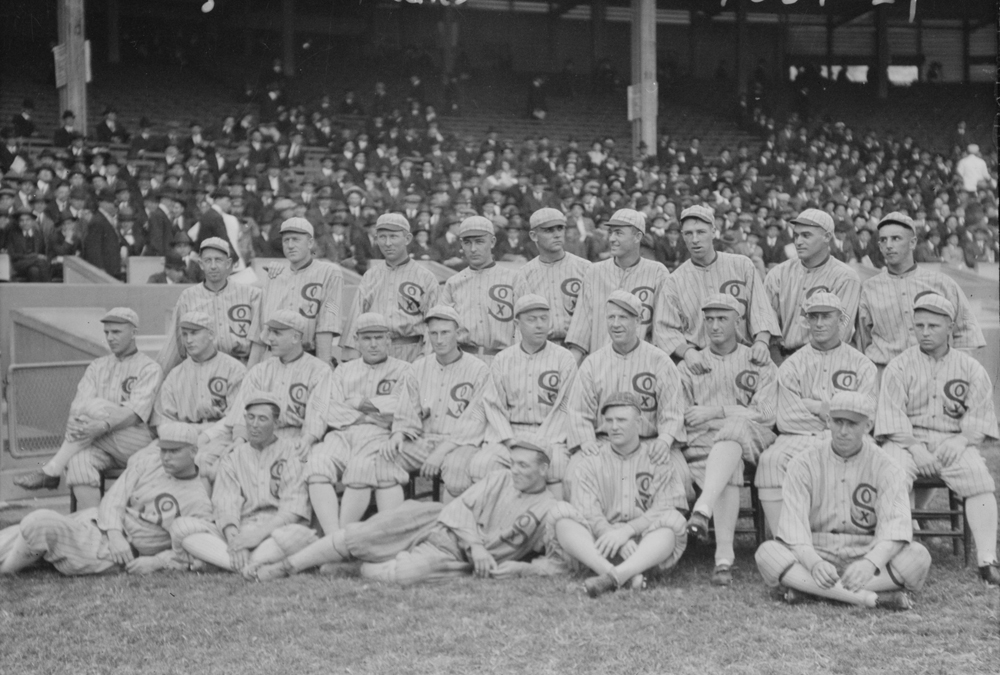 1917 World Champion White Sox
Bumgarner's gem continued a streak that places the 2010 Giants staff amongst the best pitching staffs in all of history. The Giants pitchers have now gone 17 consecutive games where they have allowed 3 runs or less and 22 straight of 4 or less. The Giants are only the second team ever to go that many games only allowing 3 runs or less. You have to go all the way back to the dead ball era and the 1917 Chicago White Sox (who won the world series that year) for a team that has had that kind of a streak. The Sox' streak went from
May 20th through June 12th
so it wasn't even in the middle of the pennant race!
Think about that for a second. The Giants pitching staff, in the modern game of baseball with it's homeruns, high powered offenses,bandbox stadiums, and chicks who dig the longball, have sustained a streak of pitching excellence that is unmatched in the ENTIRE LIVE BALL ERA!
If the Giants don't make the playoffs this season then they will have wasted one of the most impressive pitching feats ever. That will be a crime to these pitchers who have stepped it up in a way no other pitching staff has ever done.
There are just nine games left. These are going to be the 9 games that make or break this team. The Giants enter these final nine games by facing the third place Rockies who have stumbled to 3.5 games back and they end with three games in San Francisco with the second place San Diego Padres. The season will be decided over these next 9 games and anything can happen. But one thing will be for sure. The Giants' pitching staff will be leading the way.