GIANTS 1 - METS 0
Well the Giants offense has started the second half in a slumber having scored a lousy 3 runs in the first 2 games.
They are 2-0 in those games!
It also marks the first time this season that the Giants
have won a game 1-0
. Which is pretty amazing when you consider the Giants pitching staff. Up until last night, the Giants were 0-8 in games which they had scored 1 run.
Normally I would be lamenting the fact that The Giants offense has gone back into a deep slumber but not tonight. I guess I'm OK with the offense when the Staff has a 0.00 ERA!
Zito was Lincecum-esque. He actually was even more dominating than Lincecum was the night before by racking up 10 k's and allowing only 2 hits, one of which was a bloop double by Carlos Beltran in the 7th, in 8 innings pitched. I guess he
really was pissed after his last outing
.
The Giants did manufacture the run that they did get however.
In the fourth inning, Aubrey Huff drew a one out walk, Buster Posey followed with a double, and Pat Burrell brought Huff home with a grounder to second that brought a throw home which Catcher Rod Barajas just couldn't hold on to.
This sequence of events prompted the always quotable Huff to remark: "
I don't think I've been pumped up to score a run in the fifth inning, ever. It was a nice atmosphere at the yard tonight. It kind of felt like a playoff-game atmosphere."
He also added:
"Not that I would know what it feels like"
Man I love that guy.
Links of the day:
I got two today.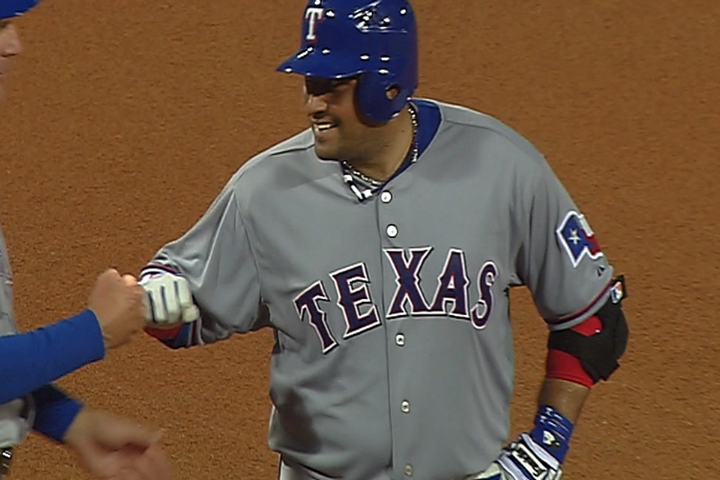 First off Bengie Molina Hit a grand slam against the Boston Red Sox last night. To top that feat, he also managed to hit for the cycle. This made a bit of history as Molina was the first catcher ever to hit for the cycle and hit a grand slam in the same game. Molina is hot BTW. This was the second night in a row that he slammed a HR!
How did he celebrate after he walked around the bases for the ever elusive triple to complete his cycle?
He came out of the game with a strained hamstring.
Congratulations big money!
The second link was actually pointed out in a blog post by El Lefty Malo who was able to find a little nugget of sense in the Dontrelle Willis signing. It shows his stats against left handed batters this season. Situational lefty anyone?